Brandilyn Collins is my favorite living author. Her sense of suspense is second to none. I was first introduced to her through the Kanner Lake Series. If you enjoy suspense, it doesn't get any better.
However, there is another side to Brandilyn Collins that we need to address right off the bat. Though she wasn't writing to my demographic, her two romance series, The Dearing Family and The Bradleyville novels are also extremely popular.
Brandilyn, I know books don't always get published in the order in which t
hey are written. Which came first, the romances or the suspense novels? How did you decide to move from one genre to the other?
Actually, I don't write romance. Those books are considered simply "contemporary" or "women's fiction." They have large romantic subplots, but the main plot centers on family relationships.
Having said that, my first novel was Eyes of Elisha, a suspense. My second (written) was
Color the Sidewalk for Me
, a contemporary. I had a huge learning curve to write Eyes Of Elisha, since it involves a lot of police work, forensics, and courtroom scenes. I'm not a lawyer, forensics person, or police officer, so I had to learn everything from the beginning. Plus, EOE came in the middle of writing a true crime, my first book to be published. (A Question of Innocence, my only book that's now out of print.) The true crime took a lot out of me because it involved the death of a four-year-old. After writing that, and all the forensics research for EOE, I just couldn't do another suspense. Since I was unpublished at the time I could write whatever I wanted. So I wrote Sidewalk. Later I wrote a prequel to Sidewalk, titled Cast A Road Before Me. Road was my first novel to be published, followed by EOE, then Sidewalk. The third contemporary novel in what came to be called the Bradleyville Series is
Capture the Wind for Me
.
By the way,
Cast A Road Before Me
is free in ebook.
"You da man" "No, you da man."
Barndilyn Collins with fellow author
Ted Dekker on the 2010 Thriller tour.
What was the process that took you from being a person who wrote books to being a published author?
The process? Lots of staying up all night, kicking cabinets, writing, writing, writing, and studying the craft. Oh yes, and ten years.
Discuss the first time you realized, "Hey, I'm a celebrity! People want my autograph." Conversely, what are the downsides to celebrity?
Wait, I'm a celebrity?
Why
didn't anyone tell me this?
Talk about the birthing process for your suspense novels.
Lots of staring out windows. Lots of going down a maze run and retracing my steps. "Nope—that's not the right path." Far more "what if" premises run through my head than ever are actually written. My Seatbelt Suspense® brand promise has four points: fast-paced, character-driven suspense with myriad twists and an interwoven thread of faith. I've found it a very difficult brand promise to live up to. Some suspense plots simply couldn't start fast enough for my readers, who expect that fast pace to begin on page one. Some don't bring about enough twists. So I pace and pray, and then sit down to write when I at least have the beginning and ending and the major twists figured out. The middle comes as I write. That's the theory, anyway.
Honestly, writing is really hard for me. And with each book it seems to get harder. I have more "reputation" and reader expectations to live up to. I have to be fresh. And always, always, I want to represent the human condition in a true-to-life way, through well rounded characters caught in a compelling situation. Writing deep emotion takes a lot of energy. It can't be skim-the-surface writing. I want my readers not just to read my scenes, but to feel them.
You live in Idaho and the Kanner Lake series is based in a small Idaho town. What was the reaction of your real-life neighbors when you brought fictional mayhem to a town not unlike the one you and they really live in?
We had our second home in Idaho at that time, but we still lived in our main home in California. Now we live full time in our Idaho home. But even when we were in Idaho at the time that the
Kanner Lake
books were being released, people in the area loved that they were locally set. It's fun to read a novel that takes place in a setting that is familiar to you. The reader can picture the streets and shops.
I'd love to do more Kanner Lake books, but the setting was, as you say, in a small town. And just how much mayhem big enough to receive national attention can you put one little town through? I do miss the characters, though. Methinks Wilbur is still sitting on his chair in Java Joint, crabbing about something and everything.
There can be raised eyebrows when Christian authors create bad guys who are just a little too convincing. What kind of comments have there been from friends, church members, or family about some of the psychopaths who dot your literary landscape? What do you say when people ask, "How long has that person been living inside you?" What is your process for developing convincing baddies for your books?
My mother always wondered where she went wrong. She also read all my books and loved them.
First, bad guys never think of themselves as bad guys. They have to do their bad thing, whatever it is, because of their own justification. Second, no character is all bad or all good. So I try to create a character with some good qualities, but who wants something VERY BADLY, and the only way to get that something is to do something VERY BAD. But it's all okay, you see, because that person, in his mind, deserves to have whatever he wants.
Brandilyn meeting fans
Discuss how the publishing industry has changed in the years since you started writing. How has it altered the way you market and sell your books?
After twenty-five books sold to publishers, I have now chosen to go completely indie (independent author), keeping the rights to my books and publishing them myself. This way I don't sell my intellectual property, and I have full control over the release and content. For someone who's as independent as I, this is way cool. (By the way, I have just gotten back the rights to my first two suspense novels—the Chelsea Adams Series:
Eyes of Elisha
and
Dread Champion
. I'm in the middle of doing a fresh edit for these books, so they're currently not available online except for used paper copies. They'll be up again soon.)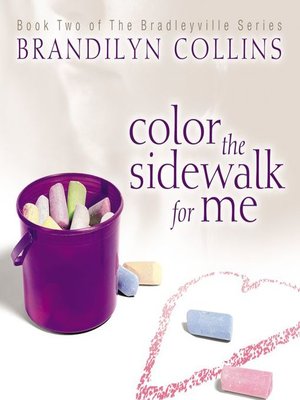 I know authors love all their "children," but are there certain books you've written that have become your pets over the years?
That's always a hard question to answer. But I'd say
Color the Sidewalk for Me
remains probably my favorite book that I've written. Which is rather annoying, since it was only my second novel. (What is it—all downhill from there?) I got back the rights to the Bradleyville Series recently. All three novels have now been re-released. Before republishing them, I did a fresh edit. Reading
Sidewalk
fourteen years after it was first published, I am still greatly moved by that book. And reader letters about the story are terrific. (I have two fat files of letters and emails for
Sidewalk
alone.)
Well, reader letters about all my books tend to be really positive. But when you get a letter from a man in his fifties who admits to reading a women's fiction novel and bawling at the end—that's a letter to remember. Of course he also added that if I ever attached his name to that statement he'd deny it.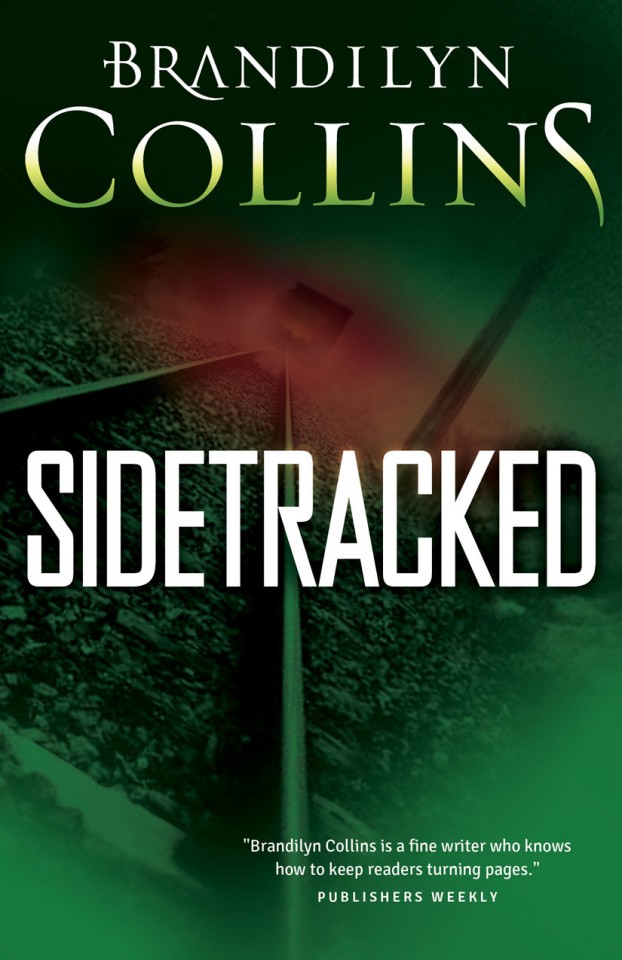 That's surprising you should say your favorite is Sidewalk, since it's not a Seatbelt Suspense®, for which you're best known.
Yeah, I know. I've written a lot of high tension suspense novels, all of which I do really like. Now that they're published, that is. When I'm in the midst of writing a book I always think it's horrible and will be the one that will ruin my career forever.
Over The Edge
stands out to me, because the story line focuses on Lyme disease and the difficult issues of diagnosis and treatment. It's another very suspenseful story. At the same time it contains a lot of information about Lyme. I've received incredible letters from readers about that book—how it's helped save their lives.
Sidetracked
is my latest suspense and has proven very popular (over two hundred 5-star reviews on Amazon).
Gone to Ground
stands out to me because of the Southern characters and the eyebrow-raising premise.
Dark Justice
is about terrorism against the electrical grid—something that's, unfortunately, all too feasible in today's world. A lot of my books are finalists/winners in various awards, but that book holds the record at six. And you mentioned Kanner Lake. I do love the characters in that series also. The
Hidden Faces
series, featuring a forensic artist, are four of the scariest books I've written. I could go on, but then I'd be mentioning all my suspense novels.
Your book about the writing process stresses character development as being of supreme importance. Do you develop your characters first and then place them in a story or do you develop the plot line and then create characters to fit the necessities of the action?
It HAS to be the former. That's why the second point of my four-point brand promise says "character-driven." Suspense is considered to be a plot-driven genre. But if you plot out a story and stick characters into it, they'll be wooden. Character motivation drives choices. Those choices in turn drive further conflict. That's why, when I begin to write a Seatbelt Suspense®, I know the beginning and ending, but not quite how I'll get there. The characters grow as I write.
They
tell me how we'll get there together. And if my planned ending doesn't work for that character, I'll learn that, too.
You mention on your website that in heaven, you shall spend all your time going from concert to concert. As a fellow music aficionado, share with me some of your favorite performers on this earthly realm.
Rock bands. I'm a rocker from the 70s. Always have been, always will be. Well, since the 70s, anyway. Kansas. Boston. Journey. Foreigner. Styx. Little River Band, etc. Also I love gospel music. So yes, I shall run from gospel concert to rock concert. But the rock songs will have lyrics about God. Best combination ever.
Authors Frank Peretti and Randy Alcorn hamming it up at
Brandilyn's lakeside home in Idaho.
Speaking of musicians, Frank Peretti's career moved into a whole different zip code when Amy Grant began talking about This Present Darkness a few years ago. Fantasize for a moment: Which performer would you like to see climb on the Brandilyn Collins bandwagon and which book would it be?
Frank happens to live in my neck of the woods. It's interesting to hear him tell that story. I don't think I'd want a performer. I'd want someone in the news industry that's highly watched. You wanna tip one or two of them off about me-that would be great.
Note:
Read the first chapters of all Brandilyn's books at her
website
. You can follow her on
Facebook
and
Twitter
.